When it comes to a diverse selection of wines and spirits with a beautiful view, Downtown Findlay has got you covered.
Whether you're looking for a night out with family and friends or a casual setting for business opportunities, Findlay's prospering downtown area has a lot to offer for any occasion. Check the websites of each establishment for food and drink menus, as well as more information on hosting future celebrations in these spaces.
Gathering Wine
Gathering Wine is a high-end bar and wine shop in downtown Findlay with a large selection of wines from around the world. Whether you are looking for a casual or upscale fine dining experience, a superior selection of wine, spirits, or beer, an outdoor patio experience in Findlay, or an exclusive place to hold your next private event, The Gathering, Gathering Wine, and Anvil Whiskey Bar offer a diverse amount of options. 
Gathering Wine is a sister property to The Gathering and Anvil Whiskey Bar.
Location: 235 S Main St. | 567-525-3235
Hours: Sun-Mon Closed; Tues-Thurs 4 pm – 9 pm; Fri-Sat 4 pm – 10 pm
The Gathering
The Gathering is an American fine dining restaurant in an open-beamed, brick-walled space that offers live entertainment on the weekends. Each Gathering property provides guests with an exceptional culinary experience at an affordable price, with burgers and soups for lunch, handcrafted appetizers and dinner selections and made-from-scratch desserts. Enjoy Happy Hour nearly every day of the week at this trendy venue. 
All products are available for consumption at the Gathering Wine to include the food menu from The Gathering, as well as wines, whiskeys, bourbons, craft beers, cocktails and other spirits.  
Location: 114 E Main Cross St. | 419-422-5930
Hours: Sun Closed; Mon-Thurs 11 am – 2 pm, 5 pm – 10 pm; Fri 11 am – 2 pm, 5 pm – 10 pm; Sat Closed 
Anvil Whiskey Bar
Anvil Whiskey Bar, located upstairs from The Gathering, is an exceptional bar and lounge venue that offers a vast selection of wine, whiskey, bourbon, craft cocktails, and other spirits, as well as a superb assortment of cigars and craft beers on tap and in bottle. Live music featuring many local artists is performed each Friday and Saturday, with dinner selections including tavern style pizzas, jumbo chicken wings (doused in 1 of 5 signature sauces) and delicious pub fries.
Be sure to grab a seat on the outdoor balcony overlooking the heart of Downtown Findlay! 
Location: Located in The Gathering, 114 E Main Cross St. | 419-422-5930
Hours: Sun Closed; Mon-Thurs 11am-2pm, 5-pm; Fri 11am-2pm, 5-10pm; Sat Closed
Wine Merchant
Wine Merchant is a wine store & bar selling a wide range of wines, as well as craft beers & a gourmet food market. Enjoy a glass of red, white, or sparkling wine, a draft or bottled beer or a cocktail. Wine Merchant offers a diverse and ever-changing wine list, a rotation of craft beers, and build-your-own charcuterie board selections.This friendly environment can also be used to host your next private event in either of the two hosting spaces.  
Location: 540 S Main St. | 419-424-0391
Hours: Sunday Closed; Mon-Sat 10 am – 6 pm
Gillig Winery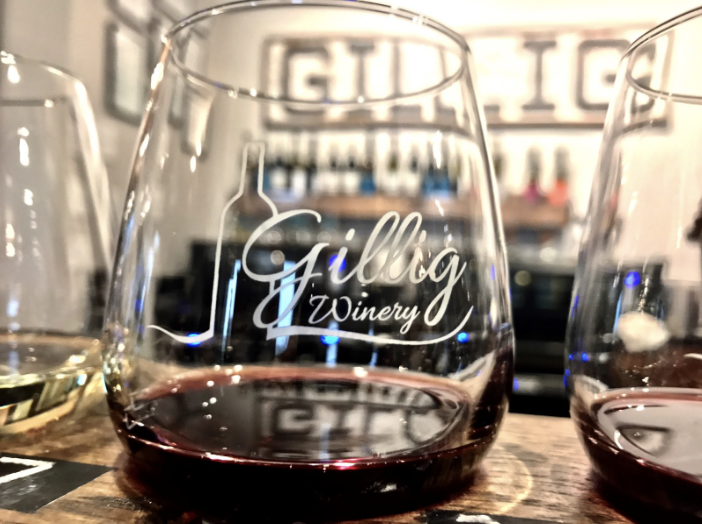 Gillig Winery is the first family-owned winery and bistro in the Findlay area, providing a relaxing atmosphere and sizable outdoor space where guests can enjoy good times with family and friends. Gillig Winery offers handcrafted wines from vineyards around the world that are produced and bottled in the Findlay, Ohio location. This space can also be used to host private events and other celebrations.
Wine is available for curbside pickup, local delivery, and shipping. Also note that the kitchen closes 30 minutes prior to the winery closing. 
Location: 1720 Northridge Road| 419-408-3230
Hours: Sun-Mon Closed; Tues-Thurs 11:30 am – 9 pm; Fri-Sat 11:30 am – 10 pm
The Bourbon Affair
The Bourbon Affair offers top-shelf bourbons and hand-crafted cocktails in a sophisticated, yet casual atmosphere that brings unique flair to the growing downtown Findlay area. The Bourbon Affair features a 40-foot custom bar and offers hundreds of different whiskeys and a wide selection of other spirits, wines and crafted beers to suit every taste. Don't forget to check out the newly established outdoor dining space that can accommodate over 60 guests and the popular appetizers and bourbon flights.  
Location: 121 E Crawford St. | 567-429-1171
Hours: Sun 10 am – 10 pm; Mon-Thurs 7 am – 11 pm; Fri 7 am – 12 am; Sat 8 am – 12 am
Beverage Barn
The Beverage Barn is a wine, beer and spirits store known for its quality, variety and welcoming atmosphere. You will surely find all of your favorites at this location and discounts are occasionally offered. 
Location: 1901 Tiffin Ave. | 419-422-2633
Hours: Sun 12 pm – 6 pm; Mon-Sat 9 am – 9 pm
Bright Road Beverage
Bright Road Beverage is the convenience drive thru for wine, beer, soda, and other snacks. This beverage center is expanding their services by adding a huge selection of exclusive wines and other party drinks for your convenience.
Location: 1700 Romick Parkway | 419-425-0375
Hours: Sunday 9 am – 9 pm; Mon-Fri 7 am – 10 pm; Sat 8 am – 10 pm