The Findlay area has wonderful nature preserves, parks, and playgrounds with activities that families can enjoy all year round. Find new adventures with your family.
Emory Adams Park
This playground reimagines the original Fort Findlay and is a 20,000-foot wooden playscape. Unique to the area with loads of imaginative and physical play opportunities for kids of all ages. Fort Findlay Playground is in Emory Adams Park at the corner of 6th Street and Blanchard Street. 
6100 U.S. Route 224 West
Litzenberg Memorial Woods has a playground set in 227.7 acres of countryside, woods, ravines, wetlands and prairie. In addition to playing on the swings and slides, your kids can enjoy the activity barn, nature trails, picnic spots and explore the Heritage Trail Center. 
The 1847 McKinnis House is also located here with a 19th century garden, and homestead area. Living history programs are conducted throughout the year, with costumed interpreters portraying McKinnis family members and neighbors. 
700 Fox St.
Pack a picnic and let the kids play in the playground while enjoying the greenspace on 10-acres. Then head out for a nature walk on the Blanchard River Greenway Trail.
16618 Township Road 208
Hancock Park District's first park has a total of three playgrounds. Other recreational activities can be found including fishing piers at Giertz Lake, picnic sites, sand volleyball, horseshoe pit, Raccoon Run Winter Sports Center, Riverbend Disc Golf Trail, K-9 Field of Dreams Dog Park, primitive camping and trails.  
3430 N Main St.
Flag City Sports Complex is the headquarters of City of Findlay Recreation and is the hub for baseball, softball and hockey tournaments, ice skating competitions and lessons. The sports complex includes Marathon Diamonds, Blanchard Valley Health System Miracle Park and Playground, Roethlisberger Field, public batting cages and an All-Star Playground.
3430 North Main St.
Located within Flag City Sports Complex, Miracle Park includes Miracle Playground, providing a play structure that is inclusive and accessible for kids of all abilities. Miracle Field, a baseball stadium that is disability friendly, is also located in Miracle Park. 
Riverside Park Waterfront is a historic and popular destination for walking and picnicking. Enjoy a large playground with equipment for older and younger kids. Don't forget to check out the waterfront area which includes a waterfalls pavilion, trail system, overlook deck, fishing area and public boat launch with paddle boats & canoes.
Additional features include a bandshell, field diamond, grills, pickle ball courts, shelter houses, shuffle board courts, corn hole, volleyball courts and Riverside Swimming Pool.  
The park has a 9-hole disc golf course, basketball court, picnic tables and playground.
12829 SR 613, Van Buren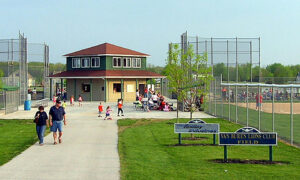 The park offers a peaceful retreat on 251 acres The park has a playground as well as just about every other outdoor activity you can think of including boating, disc golf, fishing, hunting, picnicking, hiking, horseback riding, volleyball, mountain bike trails, camping, cross-country skiing, ice skating, ice fishing, baseball and soccer fields.
Village Park, 5000 Co Rd 37, Rawson
The playground is best for younger children and is located near picnic tables, grills and the Old Train Depot Building.
180 Park Drive South, McComb
McComb's public park features a playground plus a 36-hole disc golf course, baseball and soccer fields, a batting cage, zero-entry swimming pool, tennis courts, basketball court, five shelter houses for public use and an outdoor ice-skating rink. The above ground reservoirs are available for public fishing and sledding in the winter.