Whether you are an avid train collector or just a kid at heart, the Flag City Model Train Show offers an opportunity to journey through the marvelously detailed world of model trains, enjoy train-themed shopping and even hop on board a train for a fun-filled ride.
Sponsored by Northwest Ohio Railroad Preservation, Inc. (NWORRP), the 20th Annual Flag City Model Train Show will be held on Sunday, Sept. 10 from 10 am to 3 pm at the railroad museum just north of Findlay. The show features model trains, toy trains, railroad memorabilia and much more.
A great show for all ages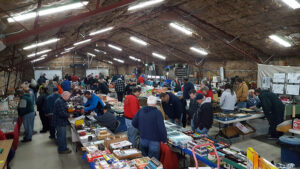 Guests will certainly be smiling as they watch tiny trains travel around the tracks, through tunnels and past small homes and community buildings while exploring displays at the train event. Children and adults alike can search for farm animals, holiday scenes, county fair rides and circus tents. 
"For this bi-annual event, we will have vendors from the tri-state area setting up displays on more than 50 tables in our Engine House," Mike Schroeder, a member of the NWORRP board of directors, said. "We look forward to having many families from throughout the region join us for this popular fall event."
Guests will have an opportunity to visit with vendors displaying model trains of all gauges, manufacturers and eras. The NWORRP gift shop and museum will also be open with four different scales including O, S, HO and N layouts, as well as many unique exhibits and artifacts from the Golden Age of railroads. An assortment of train-themed souvenirs including clothing, toys and postcards will also be available at the gift shop. 
Trains are ready to roll
In addition to the model train displays, guests can also take a ride on the quarter scale 901 steam train and the historic Riverside train for an additional fee.
"Our train rides are popular with both children and adults," Schroeder added. "The train ride lasts approximately twelve minutes, and the cost is only $3 for adults and $2 for children 12 and under."
About NWORRP
Established in 1998 as an all-volunteer 501(c)(3) non-profit charitable corporation, NWORRP is dedicated to the preservation, promotion and education of railroad history in Northwest Ohio. Located on nearly 40 acres, the site offers quarter-scale train rides, a gift shop and a museum with a variety of train layouts. Their full-size rolling stock includes a caboose, a box car, a small diesel switch engine on display and a relocated railroad depot.
In addition to the bi-annual model train show, NWORRP also hosts many other signature events including the Pumpkin Train, North Pole Express, Easter Egg Hunt, Family Fun Day and more. 
Season pass now available
NWORRP is now offering a season pass option for frequent visitors to their train museum.  This money-saving opportunity allows families to enjoy the many activities, attractions and exhibits the museum offers as often as they would like at no additional admission charge (some exclusions apply). Season pass holders also receive discounted party rentals, invitations to special member-only events and complimentary admission to select special events. To learn more about purchasing a season pass visit nworrp.org/season-pass.
Plan your visit
The NWORRP Museum is located at 12505 County Road 99 in Findlay. Admission to the Flag City Model Train Show is $5 for adults. Children under 13 and accompanied by an adult will receive free admission. There will be food available and free parking at this event. For additional information about this event visit nworrp.org, call 419.423.2995 or watch their Facebook page for updates. facebook.com/nworrp